Date: 28 February 2019
Venue: University of Tsukuba, Tokyo Campus
Number of participants: 7 participants from 6 organizations.
Participating organizations: Kanazawa University (2 participants), Tokai University, Osaka University, Kindai University, Muroran Institute of Technology, Hokkaido University (facilitator).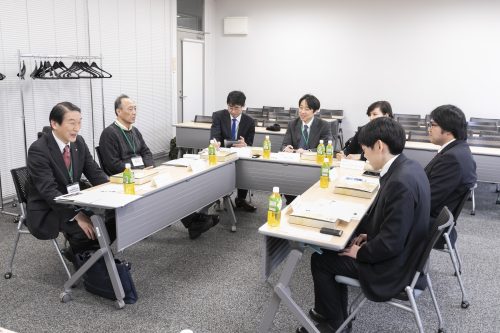 Summary: This discussion was held for exchanging information on the challenges faced and solutions worked out by each organization in their collaboration projects with Russia. The participants shared the understanding that advanced technologies were "the technologies that would shape the future and have potential to accelerate economic development in Japan and Russia as a result of their collaboration projects".
After all the present introduced themselves and Professor Tanaka from Kanazawa University was elected Chairman, the participants proceeded to share information on their joint undertakings with companies and self-government bodies on the basis of the previously exchanged materials, followed by the question-and-answer session.
Each participant made a report about their respective projects: Kanazawa University (a program including company tours and internship placements of master students), Muroran Institute of Technology (invitation of a teacher and postgraduate students to the workshop on rare-earth metals, and international internship placements for young teachers), Kindai University (student exchange in the areas of science and engineering such as electrical engineering and electronics as well as monozukuri – the Japanese manufacturing culture), Tokai University (student exchange and collaboration in research and commercialization in the fields of supersonic and laser technologies), Osaka University (long-standing research and teaching collaboration in the field of nuclear physics). After these reports, they exchanged discussed such problems as searching for new company partners that would admit exchange students for internships (Kanazawa University), as well as credit exchange and employment (Tokai University).  With respect to the forms of collaboration with industry, the participants suggested inviting lecturers, receiving scholarships and donations from companies and joining efforts in the field of the latest technologies. All the present agreed that they should continue searching for points of common interest with companies, via such forums as the Association of Japanese and Russian Universities or future working-level conferences. They also noted that collaboration with industry is easier in the case of partnerships with Russian universities that have schools of engineering.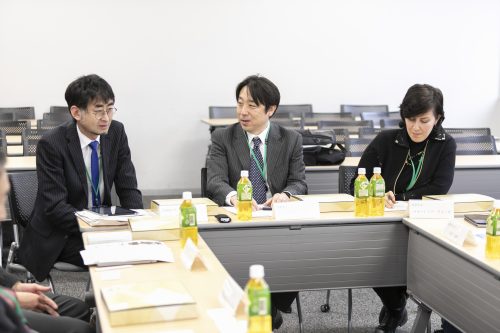 The Chairman Professor Tanaka of Kanazawa University (center), Associate Professor Aida Mammadova from the same university (right), and Yuki Komata, URA of Hokkaido University (left).