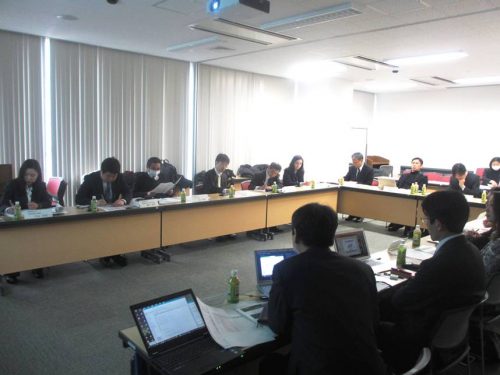 Niigata University hosted the "Preparatory Meeting of Health and Medicine Section" as a part of the "Health and Medicine" section activities at Tokyo Institute of Technology (Campus Innovation Center Tokyo) on February 22nd, 2018.
In the Preparatory Meeting, Executive Vice President Tatsuo USHIKI of Niigata University introduced the Russia Platform Project and its activities and cases, and a discussion session was held regarding challenges based on actual cases of exchanges between Japanese and Russian universities: curriculum and credit transfer, double degree program, and so on.
In addition to that, for aiming at strengthening relationship with the economic community and connecting with industrial development, the participants confirmed their course of action which is attempting to exchange and dispatch information in or out of each section actively.
Eight universities (Hokkaido University, University of Tsukuba, Kanazawa University, Shinshu University, Tokai University, Tokyo Institute of Technology, Fukushima Medical University and Nagasaki University) which seek further possibilities of exchanges between Japan and Russia attended this Preparatory Meeting, and since participants submitted comments such as "It made me understand clearly about tasks for exchanges between the countries: academic programs and actual student exchange, etc.", the opinion exchange there was remarkably meaningful.