On August 21–26, 2018 the Institute of Volcanology and Seismology of the Far Eastern Branch of the Russian Academy of Sciences (FEB RAS) hosted the 10th Biennial Workshop on Volcanism and Seismicity in the Japan-Kamchatka-Alaska Subduction Zone (JKASP-2018).
The workshop is conducted alternately by Hokkaido University, the University of Alaska Fairbanks, and the Institute of Volcanology and Seismology FEB RAS every second year, this year marking its 10th anniversary.
Apart from 10 delegates from Hokkaido University, including 6 graduate students, delegates from Hokkaido Research Organization, and the First Research Laboratory of the Volcanology Research Department (Sapporo Office) of Meteorological Research Institute of Japan Meteorological Agency (MRI/JMA) participated in the workshop.
This workshop provided the researchers of Kamchatka, one of the most volcanically active areas on Earth, to meet their counterparts and engage in the panel discussion during the helicopter trip, and the Japanese students – with ample opportunity to approach Russian scientists with their long-held questions, which generated a lively exchange of views and research results.
For details view the Workshop website (English only).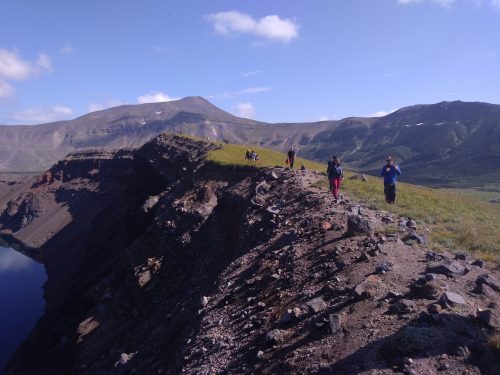 The aerial view of Ksudach Volcano taken from a helicopter