The Hokkaido University Graduate School of International Media, Communication and Tourism Studies held a Tandem Language Learning Project and Concurrent Workshop from January 14 (Tue.) to 15 (Wed.) 2020.
This workshop recently hosted by Hokkaido University (HU) was attended by three graduate students and a faculty member from the University of Sheffield (US), and provided opportunities for diverse interactions on research and education and included research presentations by three graduate students of HU and one student from Novosibirsk Technical University (NTU) and the concurrent discussions, as well as lectures and workshops by teachers.
In line with the vision of TLLP, students from HU and NTU made research presentations in English, while two students from US made presentations in Japanese. A number of faculty members and students of the aforementioned Graduate School of HU gathered to audit the research presentations, and participated in proactive opinion exchanges, receiving lots of useful advice for their future studies. The students who made the presentations also chaired other sessions, providing them with ample opportunities to experience how to preside and lead the procedures at academic and other conferences.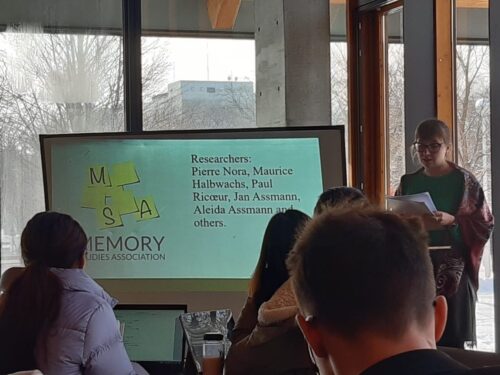 A scene at a workshop