Knowledge Sharing Symposium on Machine Learning and Deep Learning in Geoinformatics (Online) was held from 30 November to 3 December 2020 at Hokkaido University. There was a total of 62 participants in the symposium from 6 Japanese universities, 2 Russian universities, 2 research institutions, 5 private companies. 22 students from Japanese universities and several students from Russian university took part in the symposium and hands-on training.
Symposium website:
https://glpjnodal.wixsite.com/glpj/single-post/knowledge-sharing-symposium-on-machine-learning-and-deep-learning-in-geoinformatics-online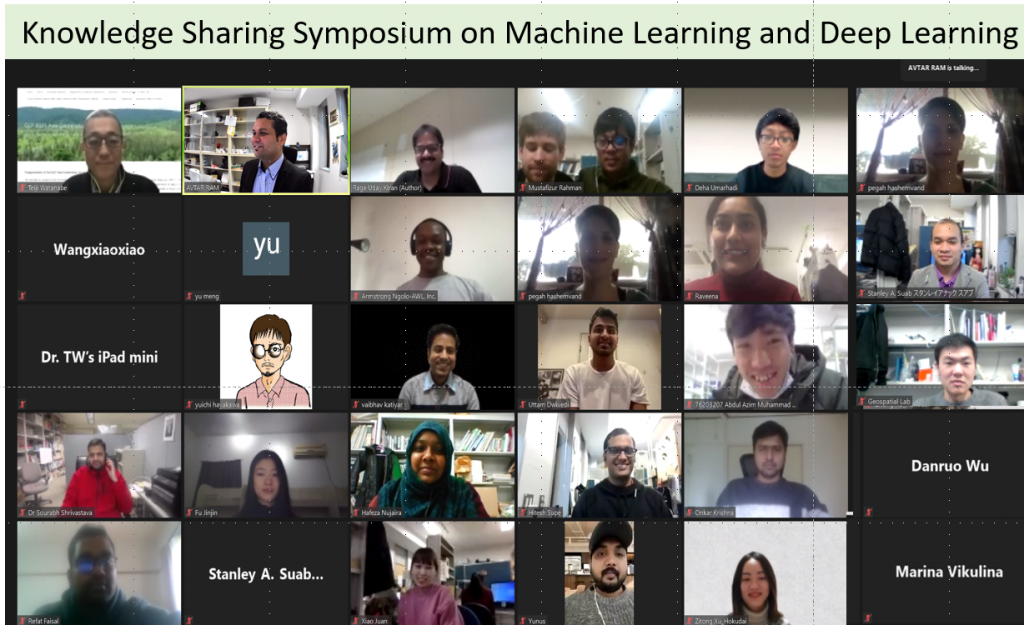 Aim of the Symposium:
The purpose of this symposium was to organize one day knowledge sharing technical session to discuss applications of machine learning (ML) and deep learning (DL) in geospatial data for environmental monitoring, followed by three days of hands-on training. The first day of the symposium was fully dedicated to bringing together the researchers and scientists to discuss and share knowledge about the recent development in ML and DP applications in Geoinformatics. This symposium provided an opportunity to share knowledge, facilitate discussions, and encourage research collaborations in the field of geospatial applications. It was useful for expanding collaborative research among the participants and discussion on future funding opportunities. The symposium was followed by a three days hands-on-training to graduate students to learn about ML and DL. It provided an opportunity to expand the network and research collaborative in the future.
Summary of the symposium:
The symposium was inaugurated by the Deputy Executive Director of Institute for International collaboration, Hokkaido University, Japan, Prof. So Kawanobe. Prof. Kawanobe emphasized the importance of collaborative research and education at the time of COVID-19 and how to strengthen our relationship by organizing the joint symposium as a part of the Human Resource Development Platform for Japan-Russia Economic Cooperation and Personnel Exchange (HaRP) activities. After the inauguration, Prof. Teiji Watanabe (Executive Director Global Land Programme Japan Nodal Office, Japan) delivered a welcome speech about the role of geoscience in sustainable development. After the inauguration and welcome speech, we officially started our technical session. The technical session was followed by a poster presentation on the same day. Further, the event was ended with a closing remark by Prof. Olga Tutubalina from M.V.Lomonosov Moscow State University. Followed by a technical session, we organized a three days intensive hands-on-training program on Google Earth Engine, machine learning, deep learning and Unmanned Aerial vehicles (UAVs) with various resource persons. We have also demonstrated UAVs and how to collect and process data.
Outcomes of the symposium:
This symposium provides us an opportunity to collaborate with researchers in Japan and Russia and to expand our network and information exchange.
Hands-on training provides an opportunity to practice and apply machine learning and deep learning algorithms in their ongoing research.
UAV based hands-on training provides an opportunity to learn how to collect and process UAV data.
Joint publication and collaborative research on application of ML and DP in geosciences in the future were also discussed during the symposium.
Based on this symposium Moscow State University (MSU) has also organized a google earth engine training for their students in the MSU.
Note: If any researcher/student is interested in downloading the recorded session of the symposium, please contact the organizer (Dr. Ram Avtar; ram@ees.hokudai.ac.jp)
Day 1 Photographs taken during the technical session and poster session (30th Nov, 2020)












Post-Symposium Activities
Mr. Igor Sereda from Moscow State University Russia, used the knowledge gained from this symposium and conducted training on Google Earth Engine for masters course students in his University. Dr. Olga Tutubalina, professor at Moscow State University, on behalf of all the students, expressed her gratitude towards HaRP for conducting this valuable knowledge transfer.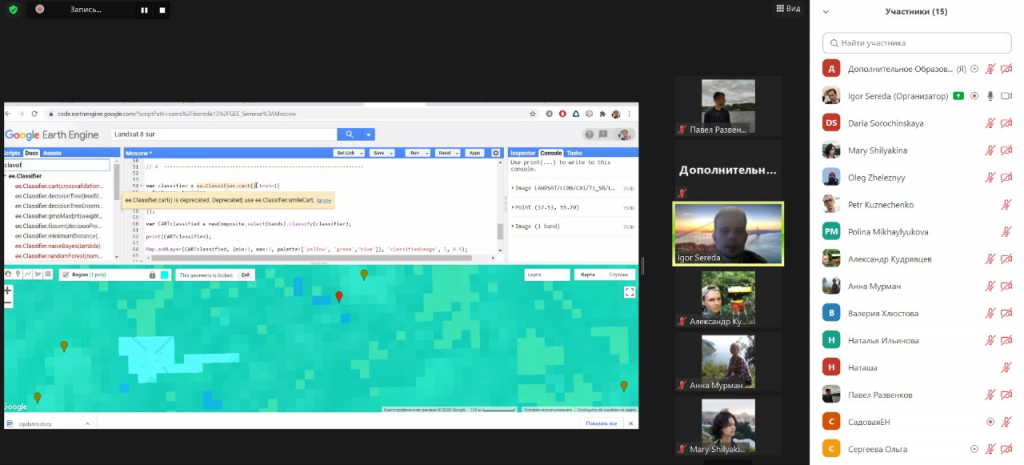 Training conducted in Moscow State University post-symposium