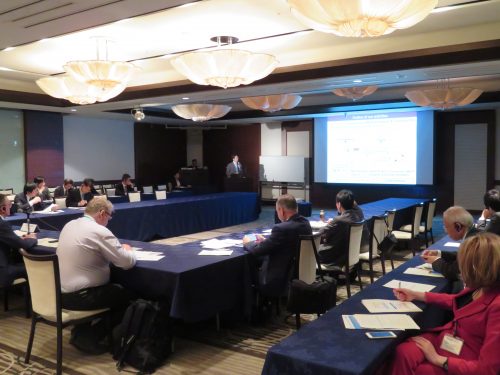 The "Health and Medicine" section meeting was held as a part of programs of the General Assembly Meeting of the Association of Institutions of Higher Education of the Russian Federation and Japan which was held at Keio Plaza Hotel Sapporo on May 20th, 2018. The involved members from the universities exchanged their ideas concerning the situation surrounding health and medicine, and medical education and research.
Five Japanese universities (Niigata University, Nagasaki University, Shinshu University, Tokai University and University of Tsukuba) and three Russian universities (I.M. Sechenov First Moscow State Medical University, Kazan Federal University and Irkutsk State University) attended the sectional meeting. Executive Vice President of Niigata University Tatsuo USHIKI and Vice-Rector of I.M. Sechenov First Moscow State Medical University Andrey Alekseevich SVISTUNOV co-chaired for that.
In the sectional meeting, each university gave presentation about their actions (outcomes and plans) regarding health and medicine. They also exchanged opinions and pointed out importance of expanding Japan-Russia collaborative and interdisciplinary research by collaborative laboratories and international teams, and sharing information and website utilization to lead synergy of exchanges between Japan and Russia, and necessity of furthering development of long-term personnel exchanges. The meeting closed with complete success.