On April 26, 2018, Hokkaido University President Toyoharu Nawa and Tokai University President Kiyoshi Yamada attended the 11th Assembly of the Russian Rector's Union at Peter the Great St. Petersburg Polytechnic University in Russia.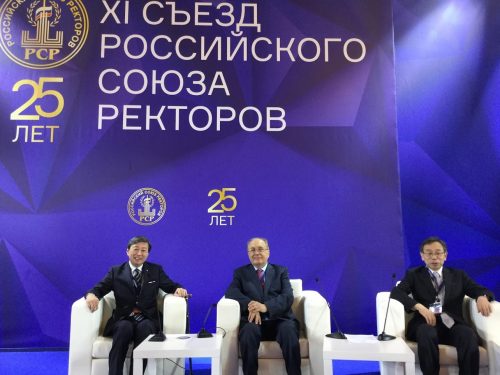 The Russian Rector's Union is a public organization established in 1992, uniting over 700 rectors and presidents of higher educational institutions of the Russian Federation. The President of the Union is Victor Sadovnichy, Rector of Moscow State University. Its objectives are to contribute to the development of national educational standards, scientific and technological development strategies, and the international activities of Russian universities. Russian President Vladimir Putin and Minister of Education and Science Olga Vasilyeva also attended the Assembly. The Union is considered to be an important organization within Russian academia.
At the plenary session, President Putin delivered a speech emphasizing the contribution of universities, in collaboration with industries, to the development of the regional economy. He also emphasized the importance of universities in contributing to the quality of the Russian educational system.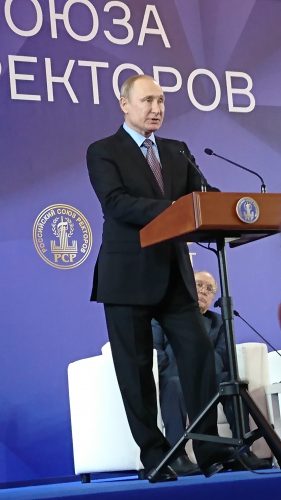 At the sessions of "International Activities of Russian Universities," one of five parallel sessions, over 50 people from institutions of higher education attended and 15 speakers gave presentations on university rankings, accepting foreign students, and collaborations with overseas universities. Hokkaido University President Nawa presented on the activities of the Japan-Russia Rector's Union, including the Platform Project implemented under the Inter-University Exchange Project granted by the Ministry of Education, Culture, Sports, and Science and Technology (MEXT). Tokai University President Yamada presented history of inter-university exchanges between Tokai University and Moscow State University as well as future development of their activities with Russia such as activities adopted under the project. They both emphasized that Japanese and Russian universities have been actively promoting cultural and informational exchanges.
Rector Victor Sadovnichy announced he would visit Sapporo in two weeks to attend the 1st General Assembly Meeting of the Japan-Russia Rector's Union, to be held at Hokkaido University. In addition to the 11th Assembly, this event is expected to deepen mutual exchanges and friendships between higher educational institutions in Japan and Russia.