The Fourth Core Member Meeting of the Committee for Personnel Exchanges was held at the University of Tsukuba's Tokyo Office on January 30 (Thu.).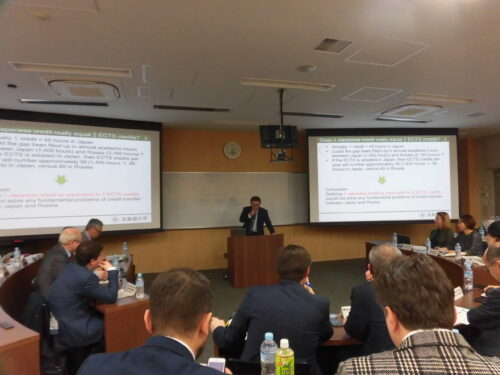 The meeting was attended by 28 delegates from Japan and nine delegates from five universities in Russia. The participants from Japan included eight core members and six regular members of the Committee for Personnel Exchanges (including deputies), 12 university administrative staff members, and two officials from the Ministry of Education, Culture, Sports, Science and Technology.
First, Professor Hirofumi Kato of Hokkaido University gave a summary of the last meeting at Moscow State University in September 2019. Next, Masayoshi Doi, the Chief of Academic Affairs Planning Division, Academic Affairs Department, Hokkaido University outlined the proposal for the Development of a Credit Transfer System and a Joint Education Program Using the Federal State Education Standards of Russia. This proposal, which attracted keen interest from many participants, is aimed at developing a credit transfer system between Japanese and Russian universities that would maintain the quality of education based on both countries' education systems.
Professor Koichi Matsumoto of Kanazawa University also outlined a joint education program currently run with a Russian university. An exchange of opinions followed three presentations from Japanese universities and two Russian universities on their curricula and syllabi.
This meeting allowed the participants to deepen their understanding of differences in curricula and the credit system between Japan and Russia. It is expected to lead to further development of the credit transfer system and joint education programs.