On October 31st 2019, a visiting group of Hokkaido University (Dean of Faculty of Engineering Professor Setoguchi, Assistant Professor of Faculty of Engineering Mr.Watanabe, and HaRP Secretariat public-private-academic partnership coordinator Ms. Lomaeva) participated in an international exhibition, "100+ Forum", held in Yekaterinburg City, Russia and exchanged opinions with Russian experts in the fields of architecture and construction.
The "100+ Forum" is a professional exhibition dedicated to the design, construction, financing and operation of unique buildings and skyscrapers. The participants include the leading construction and architecture companies, the Russian central and local governments, mayors, construction experts and representatives of specialized research institutions.
During the forum, Professor Setouchi gave a presentation themed "Desirable High-rise Building Form Based on the Snow and Wind Tunnel Simulations for Winter Cities" at the session of "Creating a Comfortable Urban Environment – A Way to Improve the Quality of Life", hosted by the Faculty of Architecture and Construction, Ural Federal University. Professor Setoguchi introduced the outline of the "New Wakkanai Station Redevelopment Project", and explained that he performed a wind and snow simulation using a wind tunnel experiment that can cope with the severe climate of Wakkanai City located in the northernmost point of Japan during implementation of the project. The forum completed successfully.
After the forum, the Hokkaido university visiting group successfully was able to get Russian relevant participants involved in various HaRP-related events. The group met with local higher education institutions such as Ural Federal University, Ural State University of Economics, Ural State University of Architecture and Arts, Japanese language school "Yume", local governments, and the Japanese-Russian Association Sverdlovsk branch and many useful in person knowledge exchanges took place. For example, teachers at the Ural Federal University participated in the "North for Work and Life" meeting co-sponsored by HaRP in Norilsk City in November 2019. Moreover, the representative of Russian-Japanese Association Yekaterinburg city branch participated in the Second Japan-Russia Industry, Academia and Government Working-level Conference on January 31, 2020 where the staff from FANUC-UrFU Training Center attached to the Ural Federal University introduced an example of human resource development project of Japan-Russia industry-academia collaboration.
The exchange between Japan, Yekaterinburg, St. Petersburg, and Sverdlovsk Oblast has grown since 2017 when Japan became a partner country of the largest Russian industrial expo called "INOPROM", which is held in Yekaterinburg, Russia annually. There are other cooperation examples such as a youth exchange project between Ural Federal University and three universities in Kobe City, Japan. It is expected that the exchanges will further expand and develop.
Related Links:
The details of "Creating a Comfortable Urban Environment – A Way to Improve the Quality of Life" session (English) in the official website of "100+ Forum"
The link to the event article in the official website of Ural Federal University (English)
The details of "New Wakkanai Station Redevelopment Project" in Hokkaido University Urban Area Design Laboratory website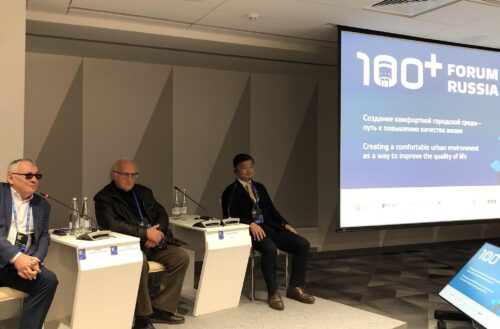 Dean of Faculty of Engineering at Hokkaido University Professor Setoguchi (right photo) who participated in the "Creating a Comfortable Urban Environment – A Way to Improve the Quality of Life" session of the forum as a panelist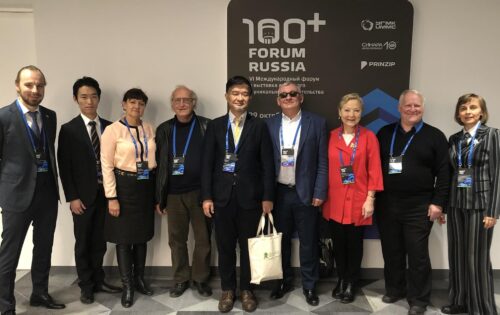 A photo with Russian-Japanese Society Sverdlovsk Regional Branch Director, teachers of the Faculty of Architecture and Construction and Faculty of Economics and Business Administration of Ural Federal University, and the visiting group of Hokkaido University