On September 30, 2020, Hokkaido University and North-Eastern Federal University (NEFU) jointly held the Cold Lands seminar "Japanese-Russian collaboration in the North" as part of the international forum "Northern Sustainable Development Forum (NSDF)". The event was recognized as a celebration of "Japan-Russia Inter-regional Exchanges 2020-2021".
Approximately 140 participants from Russia and Japan, including universities (9 from Japan, 20 from Russia), 2 companies from Japan, research institutes (2 from Japan, 4 from Russia), an NGO from Russia, and 3 government agencies including local governments from Russia attended the seminar. The participants were mainly university students, researchers, practitioners from Japan and Russia who are involved in cold lands research and development or who have shown interest in this field.
The seminar began with opening remarks by Mr. Mikhail Prisyazhnyi, First Deputy of Ministry of Education and Science of Republic Sakha (Yakutia)/ Head of department of Northern Studies, NEFU, and then Prof. Shin Sugiyama, Institute of Low Temperature Science of the Hokkaido University, gave a keynote speech on ArCS (Arctic Challenge for Sustainability) – II project as an example of Japan-Russia Joint Education and research. Following the keynote speech, Ms. Marina Lomaeva, University-Industry-Government Partnership Coordinator, HaRP Secretariat of the Hokkaido University introduced the specialized section of the HaRP program called "SDGs: Environment, Resource Development and Multicultural Education", which was newly established in August 2020.
After the first plenary session, the participants were divided into four subcommittees: (1) The Northern environment, (2) The Northern community, (3) Socio-economic development of the North and the Arctic, and (4) Construction technologies and design for cold regions, and exchanged opinions on the outline presentations of the theme shared in advance.
Afterwards, the participants joined in the concluding plenary session, which included the short reports from the moderators of each subcommittee on what was discussed and exchanged views on future possibilities of Japan-Russia joint research projects. The followings were moderators of each subcommittee: (1) Ms. Olga Tutubalina, Senior researcher, Moscow State University, (2) Associate Professor Lena Sidorova, Graduate School of Culture, NEFU and Prof. Jeffry Gayman, Research Faculty of Media and Communication ,Hokkaido University, (3) Prof. Natsuhiko Otsuka, Deputy Director of the Arctic Research Center, Hokkaido University, and (4) Prof. Tsuyoshi Setoguchi, Dean of the Faculty of Engineering, Hokkaido University.
Finally, Prof. Shinichiro Tabata of the Slavic-Eurasian Research Center of Hokkaido University and Prof. Prisyazhnyi gave closing remarks and shared information on the prospects of Japan-Russia collaboration on this theme. Participants were able to learn about Japanese-Russian collaboration in the Northern regions from research cases of experts, share useful information for future research and practice, and exchange views broadly.
Seminar participants gave HaRP Secretariat some positive feedbacks of the event including, "Both the moderators and presenters had full of professional knowledge and opinions, and I learned a lot as a participant", "I was able to interact with researchers from Russia and Japan", and "I was able to get a lot of information and ideas".
See the link for the event information.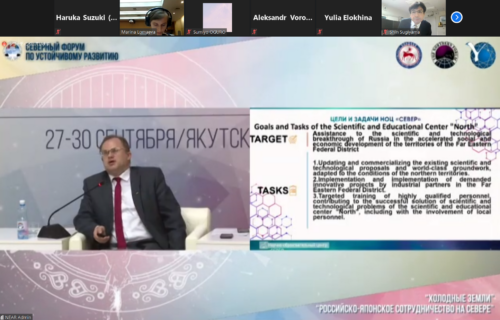 Opening remarks by Mr. Mikhail Prisyazhnyi, Head of department of Northern Studies, NEFU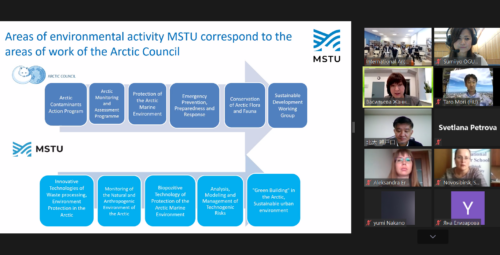 Presenters and participants of the subcommittee (4) Construction technologies and design for cold regions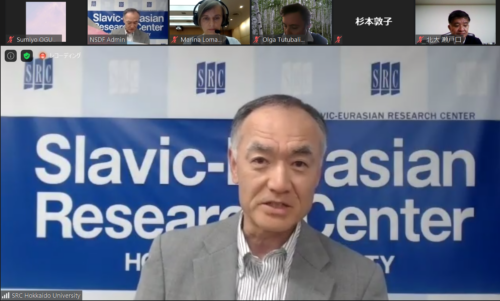 Closing remarks by Prof. Shinichiro Tabata, Hokkiaido University
The coverage of this event:
North-Eastern Federal University
Saint Petersburg State University (SPbU)
Saint-Petersburg State University of Architecture and Civil Engineering
Volgograd State University (VolSU)